Social event catering next
Wentworth, Virginia Water: Evening Buffet for 70
A lovely evening in Wentworth, Virginia Water, Surrey, GU25. The host chose some of my favourite Eastern and Middle-Eastern dishes – with some classic Italian (mozzarella and tomatoes) and old English (Eton Mess) also thrown in. The great thing about hiring a private chef is that you are not tied to one style of cuisine!
Mains
Cured beef and lemongrass salad
This is a deliciously fragrant Thai salad. Its finely sliced raw steak is essentially "cooked" in a spicy marinade.
Roast loin of tuna, studded with garlic, mint and anchovies
I love this combination of meaty tuna with garlic, salty anchovies and refreshing mint!
Roast chicken pieces in a tamarind sambal
This is a favourite with many of our clients – the sambal is tangy and very moreish!
Cornish crab & lobster salad
A zingily refreshing and sweet combination of mango, lobster and crab that always wins compliments
Spanakopita
A traditional Greek pie of filo pastry, feta and spinach – a dairy and carb lover's delight
Sides
Fattoush
A very summery Middle Eastern salad of tomatoes, parsley and croutons
Lentil, pea and asparagus salad with salsa verde
Salsa verde is a fresh herby dressing
Tomato with buffalo mozzarella and basil
Always popular!
Greek salad
The classic combination of feta with tomatoes, cucumber and olives
Desserts
Eton Mess
Strawberries folded into thick whipped cream with chewy pieces of meringue
Blueberry and apple strudel
Everyone loves this classic fruit pastry
Dark chocolate tart
One of the all time most popular chocolate desserts
Mixed berries with cream and home made vanilla ice cream
Summer on a plate!
Cornish crab & lobster salad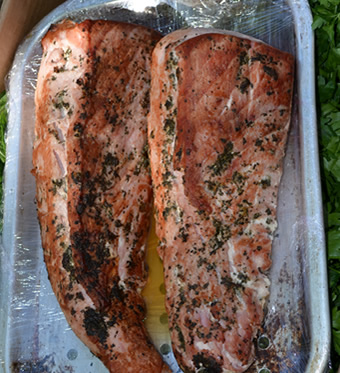 Roast loin of tuna