Food for business events
Steve Evennett-Watts has worked at River Café, Chez Bruce and l'Odeon. He was also Executive Head Chef of Villandry, Great Portland Street. He creates amazing lunches, dinners and buffet food for just about any business event from regular staff meetings to opening night at the gallery.
Contact The Delicious Dining Company
M: 07814 999798 Email: dine@yourpersonalchefservice.co.uk

Small meetings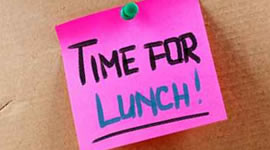 Regular director meetings or brain food for creative idea sessions - we will serve your team wonderful food tailored to your budget.
Large meetings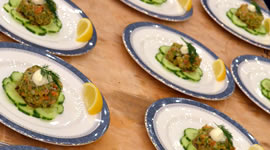 Sit-down or buffet food prepared to a very high standard. Delivered to your offices or venue or prepared on your own premises.
Corporate events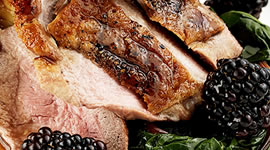 Buffets, impressive snack food, canapes, bbqs and sit-down meals for up to 100 people. From classic to creative.
Press events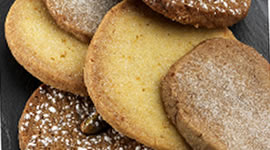 Extra-special events such as gallery openings, literary festivals and themed events often need a creative hand so call us to see how we can help.
How we work
We can deliver everything to your premises ready to serve when you need it or we can prepare the food at your venue.
Where we work
Steve has been known to jet off to the other side of the globe to prepare food for clients but he usually works within a 50 mile radius of his base in Kingston upon Thames
Regular events
Want to entertain clients on a regular basis, or offer regular staff incentive meals? From buffet to sit down dinner we can bring your ideas to fruition.
Budgets
You know how much you want to spend, so let us quote for a feast to fit your budget. Steve will use his creativity to help your money go further.
Minx PR
Excitement and anticipation is something that is rare these days but that's what I feel when I'm about to be treated to a meal cooked by Steve. Having first experienced his cuisine at The Villandry, Steve's menu combinations are always enticing and his presentation is exceptional. I am already planning my next foray with friends! Michelle Redmond

Chelsea Arts Club
Steve is an extraordinarily nice man, and anyone having his services is extremely lucky. Dudley Winterbottom, Secretary
Method Putkisto
Steve's food is lovely - stylish, elegant, tasty, and very skillfully prepared. We are his greatest fans.
Marja Putkisto
Schwabe UK
I used to visit Villandry in London on a regular basis when Steve was the Head chef. The food was always of the highest standard, but what was also impressive was the wide variety of dishes that used to appear on the menu on different occasions. I have no doubt that anyone that uses Steve's services as a private chef will not be disappointed and will be in for a real treat.' Dick Middleton, Technical Director